LOCAL LANDMARK SERIES
'Concord Covered Bridge'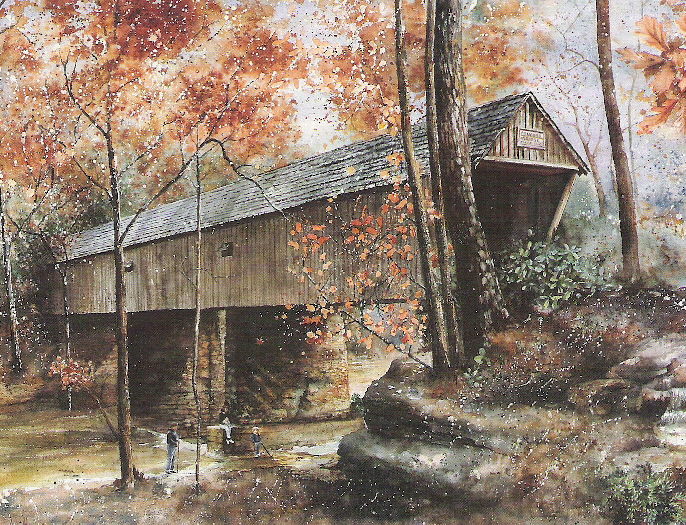 The Concord Covered Bridge is located in Smyrna in Cobb County, Georgia. It is one of the few covered bridges still in use in the south. It dates back to the Civil War, at which time the original structure was destroyed and the current bridge was built. It has been renovated and is currently open to traffic - but don't hurry through, enjoy this bit of history while you can.
Ann has limited edition prints of this painting for sale!
15" x 20" $40.00 Edition limited to 500
| | |
| --- | --- |
| | Full color reproduction of 'Concord Covered Bridge' painting $45.00 including $5 for S/H |
Also available is a print in size 5 1/2" x 7 1/2" for $5.00
| | |
| --- | --- |
| | Concord Covered Bridge print $7.00 including S/H |
"Lost Mountain Store"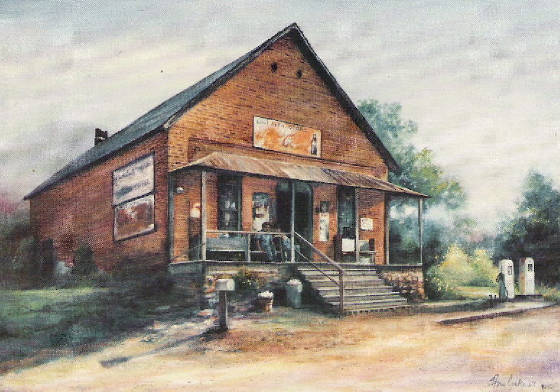 The Lost Mountain Store is a familiar landmark in west Cobb County. For many years it was a general store where you could buy everything from sweet potatoes and corn to kerosene and an ice cold Coke! Most folks stayed around awhile to chat with Newt and his dog Wheeler. These days the store serves as a location for a regional bank, but in Ann's painting it is preserved in its glory days.
17" x 23" $50.00 limited editon of 500
5 1/2" x 7 1/2" $5.00
| | |
| --- | --- |
| | Lost Mt. Store ltd. ed. print $55.00 including S/H |
| | |
| --- | --- |
| | Lost Mt. Store small print $7.00 including S/H |
OTHER REPRODUCTIONS AVAILABLE
FROM THE RED COCKERILL GALLERY